Tools and resources
Investing online has never been easier with Standard Online Share Trading (operated by SBG Securities Proprietary Limited).

The following user-friendly tools and resources are available within our platform. These are at your disposal to guide your decisions and keep you in constant contact with both the latest market information and essential historical data.

Click on the item you are interested in below for more detailed information.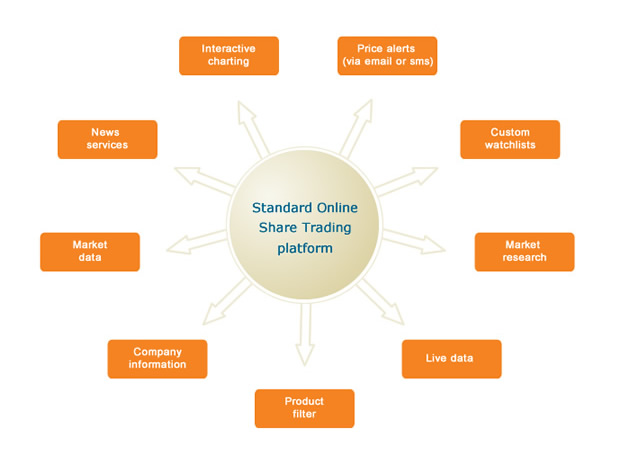 Interactive charting
Function
Example

With this tool you can access share price data from as far back as 1994. It enables you to perform detailed technical analysis on:

Shares
Local and international indices
Commodity prices
Currency prices
Price alerts
Function
Example

This tool alerts you, either via SMS or e-mail, about your favorite shares. Alerts include:

Price thresholds (high and low)
SENS (Stock Exchange News Services) Announcements
Custom watch lists
Function
Example

This service, customised to your requirements, sends regular messages to help you track the performance of, including but not limited to:

Shares
Share installments
Warrants
Futures Contracts
Local indices
International indices
Exchange rates
Commodity prices
Exchange Traded Funds
Product filter
Function
Example

Whether basic or advanced, our product filter helps you to search through volumes of shares and other JSE listed products. It sorts by specific categories to locate those that meet your exact criteria .
Company information
Function
Example

Probe our database of comprehensive background information on listed companies, comprising inter alia:

A dividend history Annual financial results
Company directors
Directors' dealings
Major shareholders
SENS Announcements
Company news
Holdings in companies
Company activities
Results calendars
Results summary .
Market data *
Function
Example

Review essential information on several important
market indicators and events, including:

Indices with EY, DY, PE and historic highs and lows
Most active shares
Gainers and losers
New 52-week highs and lows
Dividends payable and paid
Corporate actions diary
Events calendar

*Certain of the above services may be provided at an additional cost
News services
Function
Example

Source indispensable, hot-off-the-press information
from two leading market news providers:

The Stock Exchange News Service (SENS)
Reuters
Market research
Function
Example

Credible information and buy/sell ideas from top information
suppliersto consider in your decision-making process:

Consensus Forecasts from Profile Media  Group Proprietary Limited(PE, EY, DY,
buy/sell recommendations and more)
Research reports from SBG Securities Proprietary Limited
Economic reports from The Standard Bank of South Africa Limited's Global Markets Division
Live data*
Function
Example

Access comprehensive up-to-date information on a number
of key factors on all listed shares:

Display market depth (with number of orders making up
each level of depth)
Price history
History of the day's trades
Day's high and low, 52-week high and low, dividend yield,
PE ratios, earnings yield, etc
Ratios of key indices (PE, DY and EY)

*Certain of the services may be provided at an additional cost